Okay so I've not updated things for a while but its not as bad as it looks. I have completed a nice units of dwarf infantry (pending photography) and also some more Mantic elves.
I was working well on the dwarves when I decided that I wanted to go to the Battlemasters tournament in Loughborough in October. My warm up games against Daniel suggested that I would need to make some changes to my list and I added another Drakon rider and two more bolt throwers.And here they are:-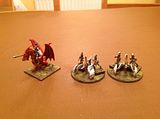 I like the way the Drakon has turned out in red and I might need to add a few more highlights to my original drakon unit to match the effect I got with this one. There are three more drakons on the workbench and then hopefully its back to painting dwarves.
In other news I have now magnabased my Orcs and Goblins. I might do a posting about that one at some point.