Bones! Reaper Bones! The nice chap over at
Miniature Heroes
decided to have a sale on Reaper miniatures so I decided to pick some up out of curiosity. For the price I have to say they are excellent, here are three I painted up yesterday - three ghosts for our current DnD adventure.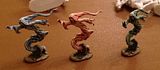 And here are some more I'm working on.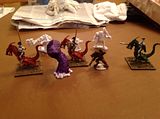 And here are those Dwarves I mentioned, still waiting to have their basing finished.