12 more Zs finished which just leaves 6 walkers and 6 crawlers to complete. The end is nigh!
And whilst I was waiting for some paint to dry I decided to do a couple of colour scheme testers for my Deadzone Plague faction. These were very quick and don't look too bad. I might be able to quickly blast out the rest of the faction at some point.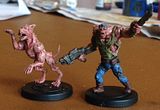 But I still have more Zs and survivors to finish before then so on with the show.