Well here is the finished article. Eagle eyed viewers will spot that I've left off a lot of the decorative items that GW provide in the kit and swapped out the heads for some Mantic Palace Guard helmets.
One thing I realised when doing the final assembly is that the instructions which come with the kit appear to be wrong .. or I glues the yoke on at an odd angle. I ended up having to shave off parts of the reigns on the lions to get everything to fit on the base.
Anyway, here they are.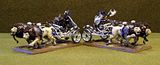 Now to get on with the remaining infantry.