Its been a relatively slow week on the painting front due to a short holiday. Despite this I have still managed to quickly paint up a couple of DreadBall MVPs. First up is the squiggly tentacled John Doe.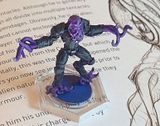 Followed swiftly by Number 88.
Currently on the workbench are the Void Sirens (female human) DreadBall team. I have come up with a simple (and easy) colour scheme and I'm aiming to have them done quite quickly.