Okay so these don't look much like undead either. These are the last three non KickStarter bones minis that I had hoped to complete before my KS shipment arrived. I didn't quite manage that but here they are anyway. I seem to be having a little clear out of the minis which are sitting half painted on my workbench to make room for the minis I'm meant to be painting.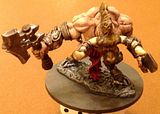 This friendly chap will be seeing action in our next D&D session.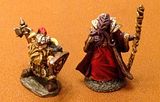 And these two where just getting in my way. Now ... more undead or more desk tidying?