As 2015 drew to a close things were not looking so good. At the beginning of the year I had set myself the target of painting over 300 miniatures (28mmEQ) during the course of the year. Unfortunately for me going into the last week of December I was stuck on 272 and hadn't been able to pick up a paint brush for weeks as my PNKD had been really bad.
So it looked like it was time for some heroics. I had a few things part painted on my workbench which I hadn't been able to complete so I got stuck in.
First up some Mantic elf spear men I bought these ages ago in the Hobbycraft sale and with the new version of KoW out I decided to bolster my army a bit. I also wanted to try and simplify my original paint scheme for these chaps and use only one wash instead of two. I think the end result looks pretty much the same and it takes a lot less time so that works for me.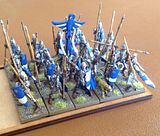 Next up some Reaper Bones miniatures painted to bolster the bad guys contingent in my D&D collection.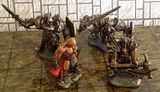 And after a frantic day with the brushes I tallied up and realised that I was now on 296 - just four agonising miniatures short of the total.
So on New Year's Eve I picked up my brushes again and carried on.
HF's Sir Olwyn has been sitting on my workbench for a so was reasonably quick to finish off.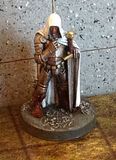 A couple more bones to bolster the bad guys.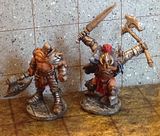 And that left me on 299 and running out of things to finish quickly. Instead I grabbed some Mantic Palace Guard and threw some paint on them.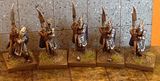 So with the year almost over I crossed the line in style bringing the total to 304. Awesome!
So how did I do on the pledge?
Total Painted 304
Total Bought 193
Balance 111
Meaning that 2015 was a WIN for the wargamers pledge for the second year in a row.
And if anyone is interested the actual number of miniatures painted this year ignoring the weighting system (e.g. 2 for cavalry, 6 for a chariot etc) was 207 which is still pretty decent. Now to catch my breath and make some plans for 2016.