All in all quit a productive day today. I've ticked off two more Reaper Bones miniatures;-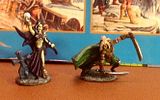 And I've also made a lot of headway with the Marauder DreadBall team too.

If things go well then I may even get the team finished in time to have a game next week.