I've kicked off this year's painting effort with a small project, a very small project. I like the board game "Dungeon!" but I'm not keen on the cardboard stand-ups which come in the box so I painted up some replacements.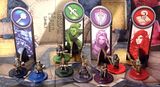 The squares on the board are very small so the miniatures had to be smaller than 28mm. Ideally I would have preferred to do this project in 15-20mm but instead opted to go for 10mm partly due to cost and partly for convenience (I happened to be placing an order for more aliens miniatures with Pendraken and needed to bulk out my order).
I've also made some progress on the xenomorph project and I should be able to show it off soon if I can come up with a colour scheme for the predators that works on such tiny miniatures.