Before I total up the scores for 2013 here are the last few things I painted up before the year drew to a close.
Here is the completed Xenomorph force including face huggers and nests. I'm not sure if I will ever come up with a scenario which involves all three queens!

And here are the colonial marines.

And showing up late for the battle are the Corporation Marines complete with acid suits.

If anyone is interested here are some close ups with a 1p piece for scale.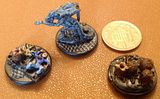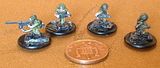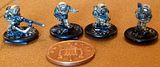 Now lets see what the damage is.